"I woke up without a voice this morning. Thanks, Journey's Edge!"
- Greg C
---
THE BAND
---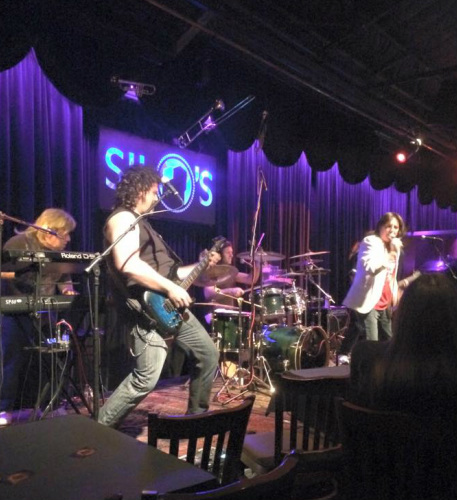 Cutting their teeth in the shadow of the City by the Bay, Journey's Edge sets themselves apart as the Ultimate "Journey" Tribute experience! Bringing back the look, sound, feel and energy of one of rock's most legendary bands, Journey's Edge delivers an explosive, high energy show that transports their audience back in time. This 5 piece super group draws on their professional performance experience, providing the most exciting and intimate representations of Journey you will ever hear or see! Since 2012, the guys have dedicated themselves to Journey fans, focusing even the small details of each performance so that the fans can relive the 1980's for an evening. Often, fans who have been to a Journey's Edge show share how they felt like they were back in High School! There is something rare and special about a band that can capture a moment and take an audience to another time and place. Journey's Edge is that kind of band!
---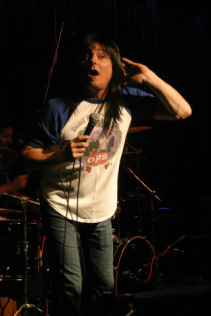 RON MATZ- Lead Vocals:

Ron grew up with a connection to the Bay Area music scene. He's been inspired by the sound that reverberated out of San Francisco, as the band Journey rose to fame. Ron has played and sung with bands most of his adult life. But it has been his own voice that led him to success playing from the south Bay to the Tahoe area. Performing in acoustic groups as well as with full rockin' bands, Ron's vocals captivate listeners with his warm, tenor tone and dynamic range, reminiscent of the legendary Steve Perry. Being a huge fan of Journey's music, Ron was eager to bring his talents to Journey's Edge. This was a perfect fit. It's not just any singer that can measure up to the high bar set by Perry. Ron is gratified to have the opportunity to give fans a moment to relive a cherished time in their past.
---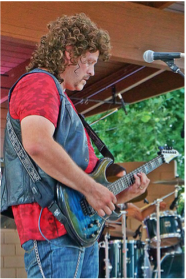 RYAN CHANSLER – Guitar, Backing Vocals:​

​​Driven by hard rock and heavy metal as a young man, Ryan could not be satisfied experiencing music as a listener only. At the age of 9, after watching Marty McFly play an overly excessive rendition of "Johnny B Goode" in the movie "Back to The Future", Ryan knew exactly what he wanted to do. He got his first electric guitar as a gift and this changed his life forever. Growing up, Ryan spent most of his time practicing and looking up to players like Joe Satriani, Eddie Van Halen, Steve Vai, and John Petrucci. In 1997 he joined his first serious band, Mercy's Edge. Additionally, Ryan has written and recorded original music on some personal projects. As a player, Ryan is built to impress as he has been schooled in music theory and has worked hard to develop speed and improvisational skills for over a decade. In early 2012 Journey's Edge formed as a tribute band. Ryan has been unrelenting about replicating the tone and signature leads of Neil Schon, delivering the ultimate live Journey experience to Journey fans everywhere.


---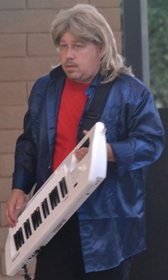 JOHN MCNEELY – Keyboards, Backing Vocals:

Classically trained on the piano, John is gifted with a fluent musical artistry, one of the keys to the authenticity of Journey's Edge. With the advent of the synthesizer, keyboards assumed an even more prominent place, defining a new genre in the 1980's. Bands like The Cure, Tears for Fears, The Cars and others were built not only on the new sounds, but the texture and depth they added. Both Gregg Rolie's and Jonathan Cain's keyboard melodies helped define the signature sound that propelled Journey's members to rock stardom. Moved by those melodies and those sounds, John performs with passion and precision, validating the sound that sets Journey's Edge apart from other tribute bands.


---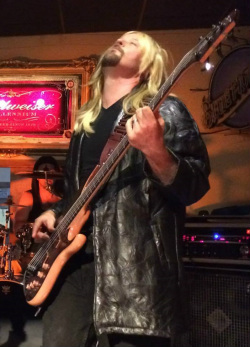 DAVID H. BOLE - Bass Guitar:

As an avid fan of progressive rock and bass-oriented bands like Rush and Yes, David has found the progressive leanings of Journey to be invigorating. Focusing on his passions, over the years Dave has broadened his foundations in traditional jazz ensembles (Yuba College Jazz Ensemble, Idle Fret), a Crosby Stills and Nash-esque pop band (Shameus), rip roaring rock music (The Ricky and Del Connection) and with a Rush tribute band (Rash). Other influences like Metallica, Faith No More and particularly the music of Frank Zappa blew open his entire musical worldview. David firmly believes there are only two types of music in the world: the kind you enjoy, and the other kind. The trick is to increase the first and decrease the second. In a band with a powerhouse singer and flashy guitarist it is easy to overlook the bass player. David aims to correct this in his attempt to faithfully execute the original parts laid down by Ross Valory and to a lesser extent, Randy Jackson. Rocking with Journey's Edge and performing the music of a band almost universally appreciated has been an open ended adventure.


---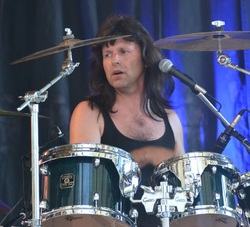 STEVE ABSHIER – Drums, Backing Vocals:

Steve began playing drums in bands performing original material. The direction of the music was listener oriented early in his years. Later he was drawn to a progressive rock sound, more personally and musically challenging. Some of Steve's influences include 80's pop rock, metal and more eccentric styles from bands like Kansas, Yes, Rush and Dream Theater. His favorite drummers include Steve Gadd, Jeff Porcaro, Stewart Copeland, Neil Peart and Mike Portnoy. Through different friendships and connections, Steve has spent countless hours laying down studio tracks over a couple of decades. With Journey's Edge, Steve draws upon all of his recording and performance experiences, laying down the solid foundation necessary for bringing some of the industry's biggest hits to crowds that love Journey. He enjoys the rewards of both playing and singing backup vocals in the band. Driven by sounds that reach into his spirit, sounds that land with impact, Steve finds that his passion leads down an avenue worth traveling.


---