Now booking for Festivals, Fairs, Wineries, Corporate Events, Private Events and more!
Call 530-635-3095 to book us now!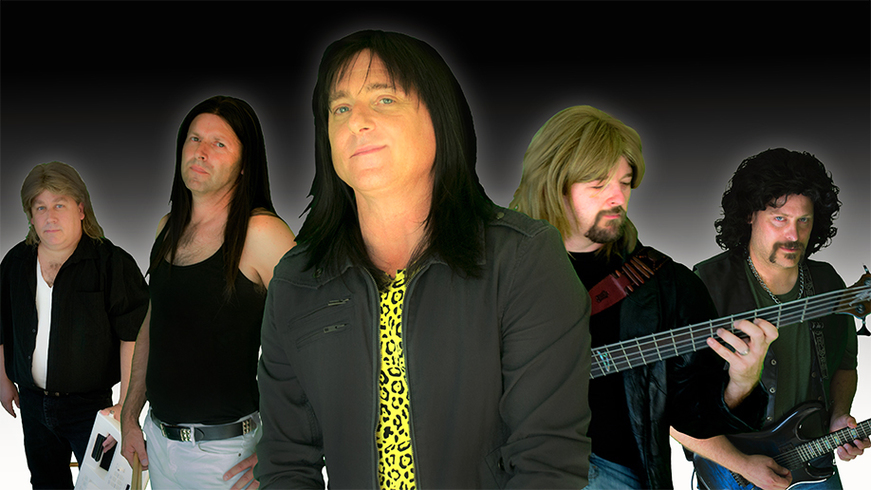 ---
---
---
From Northern California, Journey's Edge is the ultimate Journey experience! Each show promises to take you back to the 80's, to that special and tender time you can only relive with the help of the band's incredible sound, look, feel and performance of Journey's hit songs. Come to the next Journey's Edge show and experience it firsthand, as they pay tribute to one of rock's most legendary bands of all time!
---
---

What Venues are saying . . .

---

"This is not just another Journey tribute band. Journey's Edge is the closest thing to an actual Journey concert, without Journey actually being there! "
- Ken Rudolph Good-Day Sacramento


---

"Last Friday was a total, absolute blast and DEFINITELY our most memorable First Friday Event since we started doing this only a couple years ago. The music was utterly outstanding, all the band members were extremely talented and so very kind, and every guest in attendance that evening had a B-L-A-S-T! The dance floor was ridiculous and the smiles were ear to ear on all in attendance!"
- Amy Sudheimer Fairfield CHC Lead Team Member


---

"We had a semi-last minute event spring up and these guys made it happen. Our guests were blown away by their talent, look, and selection of Journey's songs. Young and old came to watch and we didn't stop receiving complements for months. I look forward to having these guys back."
–Dustin L. Winchester Country Club

---

Fans From Facebook
"Our guests had a phenomenal (actually much more than that) time... Our Facebook pages have been buzzing with kudos and praise for the event. Your performance was the cherry on the sundae and the jewel on the crown. On top of that, people should know what a great bunch of guys and talented musicians you 5 really are. I know the dedication and commitment of time it takes to play as well as you all do. Thanks again!"
- Jeff A.

"The lead singer has an awesome voice. I have never been to a concert that has a guy sing with his heart. Very Impressive! Had a great time. Looking forward to the next one!"
- Nicole W.

"Very good! I am so glad that they came to Nor Cal. I was amazed at how similar this tribute band was to the actual thing, both sound and visually! Fantastic job!"
- Jared M.

"Wow! You were all just amazing, couldn't get over how much you sound like Journey. You definitely had me feeling like I was at a Journey concert."
- Pam M.

"I am counting down the days and trying to get my friends to go to the concert!"
- Laura V.

"Super excited to see you guys again!! We're bringing a bunch of people too :)"
​- Katie S.

"...damn!"
- Roberto


Some Past Events

---

---


​Concert Venues
Nelson Family Vineyards -Ukiah
Miner's Leap Winery -Clarksburg
Kool April Nites -Redding
Yuba College Public Events Series -Linda
Mosquito Serenade -Anderson
Tomato Festival -Fairfield
Dry Bean Festival -Tracy
California Chrome Party -Yuba City
Butte County Fair -Gridley
Shasta District Fair -Anderson
Silver Dollar Fair -Chico
Concert in the Park -Yuba City
Yuba City's Summer Stroll -Yuba City
Music In The Park -Marysville
Colusa Theater -Colusa
Gover Ranch Starlight Music Jamboree -Anderson


Clubs
Silo's -Napa
Marilyn's on K -Sacramento
Powerhouse Pub -Folsom
Flamingo Resort -Santa Rosa
The Office -Ukiah
E.J. Phair's -Pittsburg
Halftime Bar and Grill -Rocklin


Private Parties/Corp. Events
Laffins Real Estate Group -Chico
Good Day Sacramento -Fox 40 TV
​Private Fundraiser -Napa
Williams Sonoma -San Francisco
Winchester Country Club -Meadow Vista
City of Anderson -Anderson
Private Party -Beale AFB
Wedding Reception -Lake Wildwood
Block Party -Marysville
Wedding Reception -Fort Bragg
Private Party -Chico
High School Reunion -Eagle Lake
Wedding Reception -Placerville